EU funded project for Small and Medium
April 10, 2006.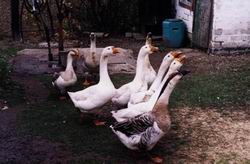 Enterprises in Agriculture
to implement a management information system at three agricultural enterprises
EU-funded Project "Improvement of logistic services and marketing channels for SMEs in agriculture" is planning to implement a Management Information System at three pilot agricultural SMEs starting from April.
One of the Project's components is management support which is targeted at improvement of management quality and decision making. To achieve that the Project chose to implement a Management Information System "Balanced Scorecards" which is a new approach to strategic management developed by Drs David Norton and Robert Kaplan from Harvard Business School in early 90s.
The balanced scorecard is a management system (not only a measurement system) that enables organizations to clarify their vision and strategy and translate them into action. It provides feedback around both the internal business processes and external outcomes in order to continuously improve strategic performance and results. When fully deployed, the balanced scorecard transforms strategic planning from an academic exercise into the nerve center of an enterprise.
The balanced scorecard suggests viewing the organization from four perspectives, and to develop metrics, collect data and analyze it relative to each of these perspectives: the Learning and Growth Perspective, the Business Process Perspective, the Customer Perspective, the Financial Perspective. The balanced scorecard methodology builds on some key concepts of previous management ideas such as Total Quality Management (TQM), including customer-defined quality, continuous improvement, employee empowerment, and, primarily, measurement-based management and feedback. The balanced scorecard incorporates feedback around internal business process outputs, as in TQM, but also adds a feedback loop around the outcomes of business strategies. This creates a "double-loop feedback" process in the balanced scorecard.
An expert from the Danish Technological Institute, one of the consortium members, will manage the process of an MIS implementation.
Project experts will make a detailed work plan for each particular enterprise that will be implementing an MIS ("Balanced Scorecard"), agree the plans with enterprises' management and start implementing the system.
After an MIS is implemented the Project will develop a practical handbook on "Balanced Scorecard" system which will be disseminated widely to representatives of Project target audience throughout Ukraine.
-----
The Ministry of Agrarian Policy of the Ukraine and the Delegation of the European Commission to Ukraine initiated the Project "Improvement of Logistic Services and Marketing Channels for SMEs in Agriculture" which was designed by the European Union's Technical Assistance Programme. The project, which is managed by a Scanagri Sweden led consortium, was initiated in March 2005. Work will focus on the development of supply chains in fruit and vegetables, cereals and milk, the development of wholesale markets and advice on agricultural policy and the regulatory environment.