HOT NEWS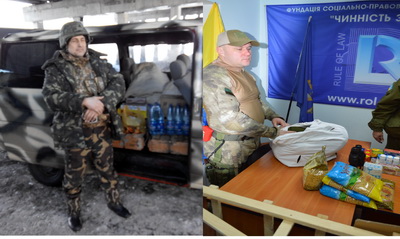 The Volunteer Headquarters of the Rule of Law Foundation invites you to join the efforts to help the Ukrainian Army and temporarily displaced Ukrainians with resources needed.
June 16, 2022.
Dear supporters in Europe and around the Globe, the strength and spirit of the Ukrainian people combined with passion to unite during the most difficult times are the key factor to our future victories! So it has gone so it goes, so it will go! The Volunteer Center of our Foundation for Social and Legal Protection of People "Rule of Law" organizes, collects, stores, and distributes various goods, accessories, and financial resources to our soldiers, refugees, and habitants of battle frontiers during the entire eight difficult years of the war to help them to fight, live and survive … Since the first day of the current hot part of the war started on February 24, 2022, we tripled our efforts t ...
(read more)
---
CIVIL SOCIETY NEWS IN UKRAINE
(June 27, 2022). With EU support, emergency rescuers in war-torn eastern Ukraine receive shipments of new protective equipment The United Nations Development Programme (UNDP), with the financial support of the European Union, procured a shipment of personal protective equipment and del ...
(read more)
---
(June 22, 2022). Art for Ukraine in aid of BEARR's Emergency Appeal UK artist Ray Postill is selling his life's work to raise money for BEARR's Emergency Ukraine Appeal. Over the course of the last twenty years, self-taught amateur artist Ray Postill has painted over 250 pictures wh ...
(read more)
---
(June 22, 2022). The European Commission recommends to Council confirming Ukraine, Moldova and Georgia's perspective to become members of the EU and provides its opinion on granting them candidate status Today, the European Commission presented its Opinions on the application for EU me ...
(read more)
---
(June 22, 2022). EU provides emergency support to VET Schools and helps improve educational process in Ukraine The EU continues supporting vocational education and training in Ukraine through the EU4Skills programme. After the start of the full-scale Russian invasion of Ukraine, the pr ...
(read more)
---
(June 13, 2022). EU sets up EUR 20 million support for Ukrainian start-ups through European Innovation Council The European Commission has launched an ambitious Euro 20 million action to support the Ukrainian innovation community. Through a targeted amendment of the 2022 European Innov ...
(read more)
---
(May 23, 2022). In Kharkiv, up to 500 houses cannot be rebuilt; authorities are planning new housing n Kharkiv, after the shelling of Russian troops, about 500 houses cannot be restored, and in the Northern Saltivka area, local authorities are already planning to build new housing – bu ...
(read more)
---

FOUNDATION NEWS
(April 27, 2022). In the temporarily occupied territories of Zaporizhzhia region, rashists are looking for journalists to force them to cooperate, send threatening letters to the media and expose news sites to DDOS attacks. In Melitopol, Berdyansk, Energodar and Tokmak, the russian mil ...
(read more)
(April 27, 2022). Russia violates the rights of wounded Ukrainian military and civilians - Mariupol Field Hospital is on the verge of survival. Due to the long siege and constant shelling of russian aircraft and artillery, it is impossible to replenish stocks of drugs - painkillers, an ...
(read more)
(May 18, 2019). 75 years since deportation: Ukraine honors victims of 1944 genocide against Crimean Tatar Ukraine recognized the Crimean Tatar people's deportation as genocide. Photo from UNIAN Ukraine and the rest of the world are on May 18 honoring the victims of genocide against the ...
(read more)
(July 4, 2017). Today is one of the most significant days in the history of theUnited States! In a short time the country has proven that it is strong and rich! We hope its future affairs will go right. Wish your American dream come true and life be calm and at the same time rich! R ...
(read more)
(April 14, 2017). Foundation items, footwear, bedding, dishes and more. We pass all this to Ukrainian soldiers through volunteers "Operation" Maestro https://www.facebook.com/permalink.php?story_fbid=776527029169734&id=331269667028808. We invite people of Kiev to join our initiative ...
(read more)
---
ABOUT SIVIL SOCIETY IN UKRAINE
Interesting about Ukraine
Romeo and Juliet in Zhytomyr words
Truth about human rights
Situation in the Autonomous Republic of Crimea and the city of Sevastopol (Ukraine)
Foreign press about Ukraine
Mar-a-Lago, Donald Trump's palace, is impressive by the standards of Palm Beach—less so when judged against the abodes of the world's autocrats.
Civil society
Remarks by Ambassador Pyatt at the "Countering Information War in Ukraine" Conference
Our partners
NGO "Rule of law" (ukr- Chinnist zakonu) provided humanitarian and financial assistance to the front on the New Year's Eve.