HOT NEWS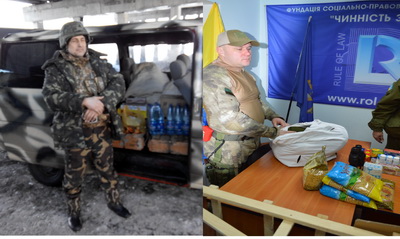 The Volunteer Headquarters of the Rule of Law Foundation invites you to join the efforts to help the Ukrainian Army and temporarily displaced Ukrainians with resources needed.
June 16, 2022.
Dear supporters in Europe and around the Globe, the strength and spirit of the Ukrainian people combined with passion to unite during the most difficult times are the key factor to our future victories! So it has gone so it goes, so it will go! The Volunteer Center of our Foundation for Social and Legal Protection of People "Rule of Law" organizes, collects, stores, and distributes various goods, accessories, and financial resources to our soldiers, refugees, and habitants of battle frontiers during the entire eight difficult years of the war to help them to fight, live and survive … Since the first day of the current hot part of the war started on February 24, 2022, we tripled our efforts t ...
(read more)
---
CIVIL SOCIETY NEWS IN UKRAINE
(January 9, 2023). EU-FAO partnership to ensure recovery and development of agricultural value chains A $15.5 million EU-funded project aims to respond to disruptions to the agricultural sector caused by war Rural households, smallholder farmers and small-scale agricultural enterprise ...
(read more)
---
(December 10, 2022). EU and UNDP supported All-Ukrainian Anti-Corruption Moot Court: developing the potential of youth to fight corruption On the occasion of International Anti-Corruption Day, which is celebrated every year on 9 December, 40 law students improved their anti-corruption ...
(read more)
---
(December 10, 2022). EU-Ukraine Solidarity Lanes: Commission and EBRD join forces to step up transport connectivity between the EU, Ukraine, and Moldova At a conference with key partners on 8 December, the Commission and the European Bank for Reconstruction and Development (EBRD) defin ...
(read more)
---
(November 15, 2022). The Council is launching today the European Union Military Assistance Mission in support of Ukraine (EUMAM Ukraine) to continue supporting Ukraine against the ongoing Russian war of aggression. The aim of the mission, formally established on 17 October, is to enhan ...
(read more)
---
(November 5, 2022). Thirteen projects involving 51 universities and other organisations from Ukraine have been selected for funding under the European Union Erasmus+ Programme for Capacity Building in the Field of Higher Education Action. . In total, 145 projects were selected for fun ...
(read more)
---
(October 16, 2022). European Commission raises a further EUR 11 billion for NextGenerationEU and to support Ukraine The European Commission has today issued EUR 11 billion in a dual tranche transaction, the proceeds of which will be used to support Ukraine under the EU's MFA programme ...
(read more)
---

FOUNDATION NEWS
(August 10, 2022). B2B Trade Mission to Europe You are invited to participate in the B2B Trade Mission to Europe, held in the digital capital of the world - Estonia! THIS IS A FREE TRADE MISSION - Participants do not pay to attend, although you will need to organize your own travel ...
(read more)
(April 27, 2022). In the temporarily occupied territories of Zaporizhzhia region, rashists are looking for journalists to force them to cooperate, send threatening letters to the media and expose news sites to DDOS attacks. In Melitopol, Berdyansk, Energodar and Tokmak, the russian mil ...
(read more)
(April 27, 2022). Russia violates the rights of wounded Ukrainian military and civilians - Mariupol Field Hospital is on the verge of survival. Due to the long siege and constant shelling of russian aircraft and artillery, it is impossible to replenish stocks of drugs - painkillers, an ...
(read more)
(May 18, 2019). 75 years since deportation: Ukraine honors victims of 1944 genocide against Crimean Tatar Ukraine recognized the Crimean Tatar people's deportation as genocide. Photo from UNIAN Ukraine and the rest of the world are on May 18 honoring the victims of genocide against the ...
(read more)
(July 4, 2017). Today is one of the most significant days in the history of theUnited States! In a short time the country has proven that it is strong and rich! We hope its future affairs will go right. Wish your American dream come true and life be calm and at the same time rich! R ...
(read more)
---
ABOUT SIVIL SOCIETY IN UKRAINE
Civil society
World Vyshyvanka Day is an international holiday dedicated to preserving the iconic Ukrainian embroidered shirt (known as "vyshyvanka") as a symbol of the material and spiritual heritage of the Ukrainian people.
Interesting about Ukraine
Romeo and Juliet in Zhytomyr words
Truth about human rights
Situation in the Autonomous Republic of Crimea and the city of Sevastopol (Ukraine)
Foreign press about Ukraine
Mar-a-Lago, Donald Trump's palace, is impressive by the standards of Palm Beach—less so when judged against the abodes of the world's autocrats.
Civil society
Remarks by Ambassador Pyatt at the "Countering Information War in Ukraine" Conference