Javier SOLANA, EU High Representative for the CFSP,
July 18, 2005.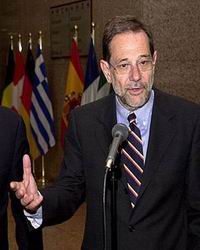 to visit Ukraine Tuesday 19 July 2005
Javier SOLANA, EU High Representative for the Common Foreign and Security Policy (CFSP), will visit Kiev, Ukraine, on Tuesday 19 July, for meetings with several political leaders.
Mr Solana will meet with President Viktor Yushchenko, Prime Minister Yulia Tymoshenko, Foreign Minister Borys Tarasyuk and the Secretary of the National Security and Defence Council Petro Poroshenko.
The visit will provide an opportunity to take stock - in the context of the deepening EU-Ukraine partnership - of recent developments and discuss regional issues of mutual interest, in particular mutual efforts to resolve the conflict over the status of the Moldovan region of Transnistria.