Сandidate Viktor Yushchenko wins first round of Ukraine election
November 10, 2004.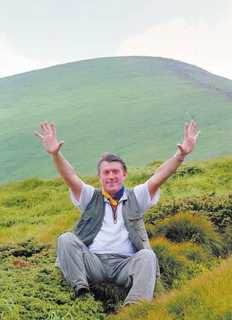 *** Оpposition candidate Viktor Yushchenko HAS won the first round of the Ukrainian presidential elections against the candidate Viktor Yanukovich, whom he will face later this month (21 november) in a runoff vote, official results released Wednesday said.

Biography candidate
Yushchenko was born in Khoruzhivka village of Sums'ka oblast', in the family of a teacher. He studied economy in Ternopil' and afterwards worked as a rural accountant in Ivano-Frankivs'ka oblast'. In 1976 he received a position in Sums'ka oblast's branch of the USSR State Bank and was later promoted to the higher position in Kyiv.
In 1993 he started working in the newly-formed National Bank of Ukraine and became its Head in 1997. As such he was taking an important part in the foundation of Ukraine's national currency, the hryvnia, and establishment of a modern regulating system for commercial banking.
In December 1999 Yushchenko was appointed Prime Minister by President Leonid Kuchma. Significant economic progress was made during Yuschenko's cabinet service, though critics argue they were made possible by general situation in the economy. Soon his government (particularly, deputy prime minister Yuliya Tymoshenko) have stepped into confrontation with influential coal-mining and natural gas industry leaders. The conflict resulted in a 2001 non-confidence vote by the parliament for which oligarch-backed pro-president groups allied with communists. In 2002 Yushchenko became the leader of the Our Ukraine (Nasha Ukrayina) political block, which won the parliamentary election that year. However, the number of seats won wasn't enough for a majority, and the efforts to form it together with other opposition parties failed. Since then, Viktor Yushchenko is the leader of the Our Ukraine parliamentary group (Ukrainian: fraktsiya "Nasha Ukrayina", фракція "Наша Україна")—the largest in Verkhovna Rada. He is reasonably regarded as the leader of anti-president opposition since other opposition parties are less influential and have fewer parliament seats.
Yushchenko is married to Kateryna Yushchenko-Chumachenko (his second wife). She is a Ukrainian-American born in Chicago, formerly a successful state official within the U.S. State Department. Opponents of Yushchenko highly criticize her for remaining a U.S. citizen.