EUBAM Press Conference Invitation, 12-45,
May 17, 2007.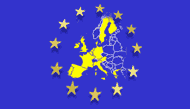 You are invited to a press briefing on the occasion of the visit of Mr Carl Bildt, Minister for Foreign Affairs of the Kingdom of Sweden, to the European Union Border Assistance Mission to Moldova and Ukraine which will take place on Wednesday 16 May at 12-45 at the EUBAM headquarters (13, Uyutna str., Odesa).
The press briefing will be attended by:


Mr Carl Bildt
-
Minister of Foreign Affairs of the Kingdom of Sweden

Brigadier-General Ferenc Banfi
-
Head of the EUBAM
Since 2006 Carl Bildt has been Minister for Foreign Affairs of Sweden. From 1991-1994 Mr Carl Bildt was Prime Minister of Sweden. In 1996-1997 he was the High Representative of the International Community in Bosnia and Herzegovina, and in 1999-2001 he was the UN Secretary-General's Special Envoy for the Balkans.
Editor's Note:
The EU Border Assistance Mission to Moldova and Ukraine was launched on 30 November 2005 following the joint request of the Presidents of Moldova and Ukraine for assistance.
Its aims are:
- to work with Moldova and Ukraine to harmonise their border management standards and procedures with those prevalent in EU member states;
- to help enhance the professional capacities of the Moldovan and Ukrainian customs and border guard services at operational level;
- to develop risk analysis capacities;
- to improve co-operation and complementarity between the border guard and customs services and with other law enforcement agencies;
- to promote cross-border co-operation.
For security reasons it is essential that your participation is confirmed by 1700 on Tuesday, 15 May by office tel. +38 0482 36-52-74 or mob. +38 050 386 89 73 or e-mail: press@eubam.org.
Contact: Anastasiya Trotska, PR Assistant, EUBAM.