Welcome to Kyiv, Mr. President
February 20, 2023.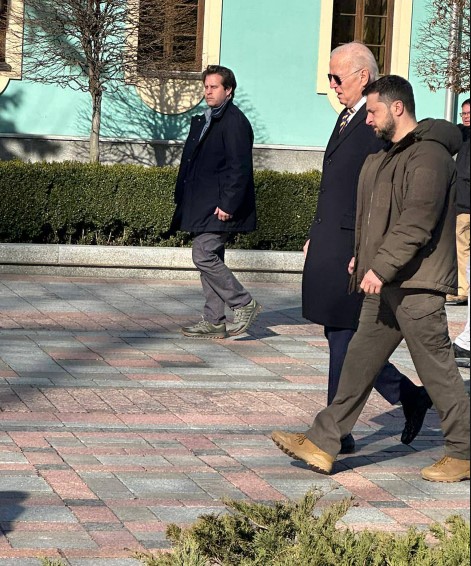 US President Joseph Biden is on an official visit to Kyiv on 20 February.

Details: Biden was noticed near St Michael's Golden-Domed Monastery in Kyiv. During the air-raid siren sounding, the US President paid tribute to the fallen defenders of Ukraine.

Later, Ukrainian President Volodymyr Zelenskyy officially confirmed Biden's visit to Kyiv by posting a photo with him on his Telegram channel.

Quote from Zelenskyy: "Joseph Biden, welcome to Kyiv! Your visit is an extremely important sign of support for all Ukrainians."

On the morning of 20 February in Kyiv, the streets in the city centre, near the US embassy, as well as the roads from the embassy to the central railway station, were blocked.

Donbas News reported, referring to eyewitnesses that Beresteyskyi (formerly Peremohy - ed.) avenue and Lesya Ukrainka Boulevard were blocked in Kyiv. Eyewitnesses posted a video showing how a motorcade, consisting of American SUVs, drove along this route.

We have launched English Twitter! Follow us!

Neither Ukrainian nor American representatives of the authorities announced Biden's visit. These security measures are quite understandable in times of war.

The Ministry of Foreign Affairs has reported that a visit from one of Ukraine's "key" Western partners is expected in Kyiv; the deputy minister promised a "surprise".

Earlier, it was reported that US President Joe Biden will visit neighbouring Poland on 20-22 February.

There were also rumours that during this trip, Joe Biden might meet with Ukrainian President of Volodymyr Zelenskyy in Poland during this trip.

In late January, John Kirby, Coordinator for Strategic Communication of the National Security Council of the White House, stated that the US president had not abandoned the idea of visiting Ukraine but that there were no plans to do so. At the same time, the media reported that Biden was considering a visit to Europe to support Ukraine on the anniversary of the invasion.

It was also reported that Italian Prime Minister Giorgia Maloni would arrive in Ukraine on 21 February. A meeting with President Volodymyr Zelenskyy is planned as part of the visit.

On 20 February, Ukraine celebrates the Day of Remembrance of the Heavenly Hundred Heroes, the sorrowful anniversary of the shootings of peaceful protesters by the regime of fugitive President Viktor Yanukovych in the winter of 2014. From February 18 to February 21 2014, security forces and unarmed protesters clashed violently. But on 20 February, the largest number of Maidan activists died: 47 people.

Background:

Dmytro Kuleba, Ukraine's Foreign Minister, did not go to the announced meeting with European foreign ministers in Brussels, which was to take place before the EU Council meeting. The news of Kuleba's change of plans coincided with a large-scale traffic restriction in Kyiv, sparking rumours of a top Western official visiting the city.