In frames of the seminar "Social Economy in Ukraine"
April 19, 2006.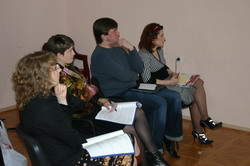 the meeting of the NGO Coalition "on strengthening of the civil society influence on the decision-making process" took place in Odessa as most of the members of the Coalition were participants at the seminar. The seminar was supported by International Renaissance Foundation and Forum SYD Swedish NGO Centre for Development Cooperation. This meeting was oriented on the restructuring of the activities of the Coalition, revision of the membership in the Coalition, overview of the Action plan for 2006 and approval of it and development of the ideas for the new text for Status of the Coalition.

There was also regarded the issue on the motivation of the Coalition, in particular how the organizations of the Coalition can cooperate and support each other.
There was a decision taken on the necessity to use the IT resources to exchange the ideas and information between all the members of the Coalition. The web site of Rule of Law Foundation can be used to have a link to activities of the Coalition.
The other results and organizational decisions will be in the next releases.
Photo: at the time of the Coalition – working moment.