HOT NEWS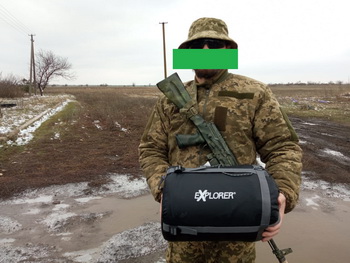 Every Warrior's Life - Our Concern!
November 27, 2023.
We would like to inform you that the "Law in Action" Foundation and the Civil Chamber of Kyiv continue to collect and deliver ammunition and humanitarian aid to the front lines. In our latest initiative, we have successfully provided bedding and medical supplies to the conflict zone. We extend heartfelt thanks to the "Integro" Foundation and Natalia Chaplynska, a deputy of the Ivano-Frankivsk Regional Council, for their collaboration and support. In pursuing these crucial initiatives, it is essential to emphasize that every Ukrainian should daily reflect on our collective Victory in the Russian-Ukrainian war. Glory to Ukraine! Video - https://www.youtube.com/shorts/QI_82srZrrs ...
(read more)
---
CIVIL SOCIETY NEWS IN UKRAINE
(November 23, 2023). HIAS Ukraine and the NGO Girls Present Research on Mental Health Needs and Psychosocial Support for Ukrainians Kyiv, November 21, 2023. HIAS Ukraine and the non-governmental organization "Girls" have prepared and presented the results of a nationwide study on menta ...
(read more)
---
(November 13, 2023). Commission adopts 2023 Enlargement package, recommends to open negotiations with Ukraine and Moldova to grant candidate status to Georgia and to open accession negotiations with BiH, once the necessary degree of compliance is achieved Enlargement package visual ...
(read more)
---
(November 10, 2023). Probation Oversight: What is it, who will be punished, and should we be afraid? (Link to the film) In Ukraine, a new form of punishment, probation oversight, will be introduced as early as March 2024. Although the corresponding law was passed at the end of August, ...
(read more)
---
(November 2, 2023). International Day to End Impunity for Crimes against Journalists: Joint statement by the High Representative Josep Borrell and Vice-President Vera Jourova On the occasion of the International Day to End Impunity for Crimes against Journalists on 2 November, and in t ...
(read more)
---
(October 29, 2023). EU, UNDP and MinDigital host Digital Forum: Effective Administrative Service Center 4.0 – paving the way for a digitally empowered Ukraine The Forum was organized to open channels for dialogue centred on the evolution and digital transformation of the system for del ...
(read more)
---
(October 26, 2023). Helping Ukraine to bring the war criminals to account EEAS hosts the launch of the Ukraine Atrocity Crimes Advisory Group (ACA) Multi-National Fund. On Monday 16 October, the EEAS hosted the launch of the Atrocity Crimes Advisory Group (ACA) Multi-National Fund i ...
(read more)
---

FOUNDATION NEWS
(August 3, 2023). Let's Save Every Warrior! Throughout the epochs of our history, the Ukrainian nation has always proven its strength, resilience, and societal unity, standing shoulder to shoulder in the fight for independence and sovereignty. Today, our country faces trials and threat ...
(read more)
(May 29, 2023). United with a Good Heart: Charity Auction in Support of the Military Raised Over 200,000 Hryvnias to Defend Our Homeland Over the weekend, a charity auction in support of our military took place in the Dniprovsky district of the capital, gathering people from different ...
(read more)
(May 24, 2023). DEAR RESIDENTS OF KYIV! The Ukrainian army is engaged in a difficult struggle against Russian aggressors! Every Ukrainian must help our Warriors! Therefore, we invite you to join our charitable auction, where you will have the opportunity to purchase exclusive product ...
(read more)
(April 18, 2023). Modern bath and laundry complexes have been provided to Ukrainian soldiers at the front line. It has been over a year since the active phase of the war began, and our soldiers have been living in difficult conditions for months - cold, dampness in their quarters, and ...
(read more)
(February 26, 2023). Last week, the Volunteer Center of the Rule of law Foundation transferred equipment for heating and ammunition. Together with the "Integro" Charitable Foundation (Ivano-Frankivsk), the volunteer center of the Rule of law Foundation transferred mobile heating equipm ...
(read more)
---
ABOUT SIVIL SOCIETY IN UKRAINE
Civil society
World Vyshyvanka Day is an international holiday dedicated to preserving the iconic Ukrainian embroidered shirt (known as "vyshyvanka") as a symbol of the material and spiritual heritage of the Ukrainian people.
Interesting about Ukraine
Romeo and Juliet in Zhytomyr words
Truth about human rights
Situation in the Autonomous Republic of Crimea and the city of Sevastopol (Ukraine)
Foreign press about Ukraine
Mar-a-Lago, Donald Trump's palace, is impressive by the standards of Palm Beach—less so when judged against the abodes of the world's autocrats.
Civil society
Remarks by Ambassador Pyatt at the "Countering Information War in Ukraine" Conference