Welcome to Europe Day!
April 24, 2006.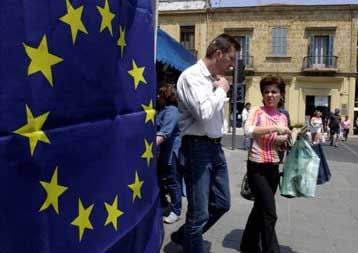 Detailed Programme: www.delukr.cec.eu.int
Building on the phenomenal success of last year's celebrations, we are confident that Europe Day 2006 will be even greater and more memorable. For the fourth consecutive year, Ukraine will see festivities in Kyiv and many regional cities marking the day that the nations of our continent celebrate what brings us together, as well as what makes us diverse.
Last year 80,000 people joined in the festivities in the capital, while another 65,000 took part in Odessa and Donetsk. This May the people of Zaporizhzhia and Kharkiv will be celebrating together with Kyiv. Europe Day is an occasion for Ukrainians to remember and reaffirm that they are a European nation. Europe Day has become such a massive event over the past few years that we hope it is no exaggeration to say that it has become a part of the process of Ukrainian identity and nation-building. One thing is for sure: Europe Day has been celebrated with more vigour, passion and pride in Ukraine in the last few years than in many countries of the EU!
This year, Europe Day in Kyiv will see the already familiar European Village representing more nations than ever: 26 embassies will invite visitors to discover more about their countries, as well as to partake of culinary delights from all across our continent at a Food Corner. The Language School, an Arts & Music Corner, interactive games and quizzes and other exciting attractions will ensure there will be lots to do and see. Look out for our expanded public discussion forum where high-profile celebrity speakers from all over Ukraine and the EU will debate important topical issues. One of the highlights this year will be the European Football Competition, where children and young people, as well as politicians, diplomats, journalists and musicians will play matches and enjoy games and quizzes in honour of the World Cup and Ukraine's first-time participation in this event. In the evening, an official opening ceremony will precede the eagerly-awaited rock concert—a spectacular, loud and proud celebration of our diverse musical tastes and traditions.
Experience Europe Day 2006: Kyiv—20th May. Zaporizhzhia—26th May. Kharkiv—28th May. Come and mingle, drink, eat and have fun with thousands of your fellow Europeans.