Election Law Summer School
May 19, 2006.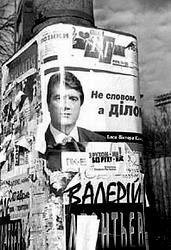 (Crimea, Feodosia)
July 4-11, 2006
The USAID Strengthening Electoral Administration in Ukraine Project (SEAUP), implemented by Development Associates, Inc. with support from USAID, invites students to apply for participation in summer school on election law.
Applications will be accepted from last-year students and recent graduates of law, political science, and other social sciences, as well as young politicians and NGO activists. Applicants should submit an essay on elections issues (scientific publication, essay, publicistic article, scientific and popular article) and its summary. The volume of the essay is unlimited. Summary should not exceed 500 symbols. The summary will be considered when determining winners of the competition. Essays of winners will be considered by a commission during the school. Best works will obtain prizes and will be recommended for publication (placement on the Project's website).
Summer school will take place from July 4 till July 11, 2006.

The curriculum will include:
International standards of free and fair elections
Comparative analysis of electoral systems
Election legislation
Problems of forming national and local voter registries
Territorial organization and administration of elections in Ukraine
Problems of appeal the election legislation violations in courts and election commissions
Political parties and election campaign finance
Legal regulation of media in electoral proces

Applicants can download an application form or apply on-line at http://www.vybory.com/ukr/school.html. You can also send your request for the application form by e-mail school@devassoc1.kiev.ua or fax: (044) 246 5818.
Complete applications along with all supporting documents can be sent to the address:
23, Antonovych Street, Office 2,
Kyiv 01004
fax: (044) 2465818
e-mail school@devassoc1.kiev.ua
Deadline for applications - June 11, 2006
NOTE: Applications of the 2003, 2004 and 2005 Elections Summer Schools participants will not be considered!
SEAUP provides full scholarships (accommodation, food, tuition, and round-trip ticket) for participants.