Ukraine presidential staff chief hasn't resigned - official
December 14, 2004.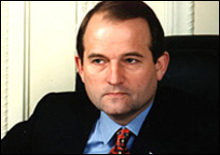 KYIV. Dec 14 (Interfax-Ukraine) - Ukrainian President Leonid Kuchma's representative in parliament, Oleksandr Zadorozhniy, has denied assertions that presidential chief of staff Viktor Medvedchuk is stepping down.

"This is a mistake or a joke. Medvedchuk had not made any statements as of 1:00 p.m. It is a mistake," Zadorozhniy told journalists on Tuesday. He also said that Kuchma had instructed him to deny any reports about Medvedchuk's resignation.

Medvedchuk is at the presidential residence, discussing a package of documents with Kuchma, he said. There was no resignation statement among the documents and this issue is not being discussed, Zadorozhniy said.

Medvedchuk had told Interfax that Kuchma will dismiss him before a new president is inaugurated.