ROL: The dedication of the staff and volunteers who work in this centre is truly extraordinary: they assist hundreds of people
May 1, 2022.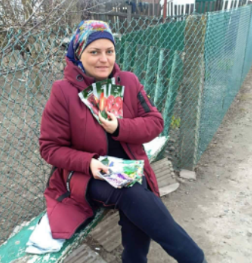 The BEARR Trust: Three months into the war, and we have raised over GBP 170,000, including donations received separately from our CAF donate site. We have now sent over GBP 140,000 to our partners supporting vulnerable people in Ukraine and Moldova.

One of our trustees, Jane, returned to Moldova this month to further support the relief effort and assess how the situation has changed since March. Our partners are continuing to care for the immediate needs of refugees, providing them with food, clothing, medicine and transport, as well as trauma support and therapy.

Jane visited one of our grantees, who have renovated a disused library using funds from our appeal to create a safe space for mothers and children. As the war intensifies, and Moldova itself comes under threat, funds are desperately needed to support refugees and the local charities and families who are looking after them.

While one Moldovan partner continues to deliver hot food and bedding to new arrivals, another is setting up long-term counselling sessions and art therapy classes for families who will now be in Moldova for the foreseeable future.
One of BEARR's partners in western Ukraine is also thinking about the longer-term needs of internally displaced families. They originally reached out to us to report that they were providing shelter, pillows and blankets for those arriving in the region. Two weeks later, they got back in touch to say they were launching a Seed Project and Community Garden. Below, they outline the details of the project:

"Our town has been accepting thousands of refugees from the North-East of Ukraine, running from the bombs. Some of them will be going farther and a huge number will stay with us. The number is overwhelming for the city. We want to give them seeds with major vegetables, which they will be able to grow. Since they lost their homes, we don't want them to starve."

With BEARR's support, they have since distributed over 500 family sized seed boxes, and are planning to expand their project to neighbouring regions. Their most recent report states:

"Our target families received the seeds and already started field works. We receive grateful calls and messages from people of our target group, and we really think that we could continue this project in other regions of Ukraine. Today morning our volunteer had a meeting at the territorial community, where people were speaking about them as victory gardens."
Our appeal funds are being used by our partners to respond to the immediate needs of those affected by the war, as well as to support the longer-term initiatives they develop as the situation becomes more complex.

BEARR's partners in and around eastern and southern Ukraine have recently been in contact about the increasing numbers of evacuees arriving from besieged towns. With rising fuel costs and a shortage of medicines, we are continuing to provide them with funds to purchase urgent aid. You can find the most recent updates on how money from our appeal is being spent over on our website stories - https://bearr.org/stories

If you are able, please donate to our campaign page here - https://cafdonate.cafonline.org/19892#!/DonationDetails
Our partners give their heartfelt thanks to all our donors for your generosity. We will continue to support their vital work as they respond to the rapidly changing events on the ground.