EU, UNDP help provide over 130,000 Nikopol residents with access to clean water
October 22, 2023.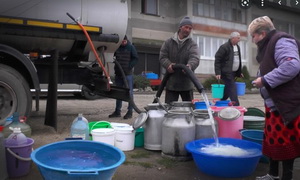 KYIV, 16 October 2023 – In response to the dire situation caused by the extensive destruction of critical infrastructure in Nikopol, the United Nations Development Programme (UNDP) in Ukraine, with financial support from the European Union (EU), has delivered two powerful water pump stations to Nikopol City Council.

These vital pumps are aimed at facilitating the rehabilitation of the severely damaged water supply system.

Nikopol, in Dnipropetrovsk Oblast, has suffered significant losses and infrastructure devastation as a consequence of the destruction of the nearby Kakhovka Dam and continuous Russian attacks. The city has been under relentless artillery shelling for over a year, resulting in the destruction of both residential buildings and essential infrastructure facilities.

Nikopol's water utility company Nikopolvodokanal is the primary source of centralized water supply for 125,900 residents, 270 public enterprises, and 2,360 private legal entities within the city and in the oblast's Nikopol District. It is also responsible for wastewater transportation and treatment. The full-scale Russian invasion has compromised the company's ability to offer an uninterrupted water supply to its communities.

The EU and UNDP responded to a request for aid from the local authorities. Following a series of consultations with the authorities and the water company, UNDP experts identified the necessary equipment to enable the effective restoration of the water supply system. As of now, two powerful water pumps have already been delivered to Nikopol. These pumps boast a combined capacity of 800 m3/h, thereby facilitating the daily provision of water to 130,000 individuals.

Head of the European Commission's Service for Foreign Policy Instruments Peter M. Wagner stressed that a dependable supply of water is vital for the wellbeing of the community in Nikopol. "As everyone knows, even a small break in the supply of water represents a huge inconvenience to the public. We understand how important it is for people to know that water is available in their taps – it's an absolute necessity in a modern, developed country – and we're proud to help ensure it's there for the people of Nikopol."

UNDP Resident Representative Jaco Cilliers reiterated UNDP's dedication to aiding in the restoration of essential infrastructure in war-affected regions of Ukraine. "Access to water is an essential service that must be ensured for everyone," Cilliers said. "We're pleased to help restore the water supply for the people of Nikopol, in the hope that it will enhance the well-being and fortitude of Nikopol's courageous residents."

Head of the Nikopol City Council Oleksandr Sayuk highlighted the devastating impact of the full-scale invasion, saying, "For sixteen months, Nikopol has endured relentless bombardment by Russian Federation forces, causing extensive damage to homes and critical infrastructure, including Nikopolvodokanal."

Expressing gratitude for the support of the EU and UNDP, he added, "Our utility workers can now use these reserves to ensure a more reliable centralized water supply for our community. We sincerely thank our dependable partners for their timely assistance during these challenging times."

Background: In August 2022, the European Commission, through its Service for Foreign Policy Instruments (FPI), contributed EUR 20 million to UNDP to support debris removal and the restoration of critical infrastructure in Ukraine under the "Support to Early Recovery in War-affected Areas in Ukraine" project. The funds also are being used to identify, map and neutralize urgent environmental threats and to help repair, restore, and/or procure strategic infrastructure, in particular, to improve water and energy supplies in affected areas.