Presidential Day 2004 May Enter the Book of Records of Ukraine
November 2, 2004.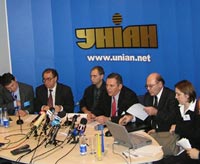 *** "Presidential Day 2004" event opened at UNIAN from October 31 (2 p.m.) to November 1 (1 p.m.) may be recognized as the longest press conference in the history of Ukraine, and enter the "Book of Records of Ukraine".

Open Independent Joint Information Centre 'Presidential Day 2004' – is a common initiative of the Public Coalition 'New Choice - 2004', 'Candidate' Media-Centre, 'Civic Space Portal', IATP-IREX program, with the support of the International Renaissance Foundation. "The Presidential Day 2004".

Around 400 journalists attended press conferences of the "Presidential Day 2004".

A number of candidates on the post of the President of Ukraine and representatives of the electoral headquarters participated in briefings of the Information Centre – Yu. Tymoshenko, S.Havrysh, Yo.Vinsky, B.Tarasyuk, Yu.Kostenko, I.Plyushch, N.Vitrenko, V.Volga, S.Komisarenko, I.Dushyn, A.Chornovil. Politologists O.Garan, K.Bondarenko, V.Fesenko, A.Okara, V.Karasyov, V.Polokhalo, Ya.Pavlovsky, V.Bala participated in the Information Centre press conferences.

Representatives of non-government monitoring organizations and initiatives O.Chekmyshev, V.Ivanov, S.Taran, Yu.Tyshchenko, I.Pidluska, M.Svystovych, Ye.Zolotariov, N.Ligachova and writers O.Zabuzhko, V.Tsybulko, Yu.Lukanov took part in the 'Presidential Day 2004' events.

On October 31, 8 p.m. and 11.30 p.m. we have hold presentations of preliminary and final results of the exit poll, organized by the Consortium of five organizations 'Democratic Initiatives' Foundation (I.Kucheriv), 'SOCIS' Centre (M.Churylov), Kyiv International Sociology Institute (O.Balakireva), Razumkov Centre (A.Bychenko).

The Committee of Voters of Ukraine announced the results of the parallel vote count in the Information Centre on November 1, 10 a.m.

The structure of International Information Center included the 'news hot line' formed by messages of civic monotoring organizations, regional representatives of the Committee of Voters of Ukraine, correspomndents of UNIAN, 'Candidate' Media-Center, Public Radio issued in Ukrainian, Russian and English.

For the first time in Ukraine, Internet-videoconferences included web coverage from regions (Lviv, Sevastopol, Sumy, Mykolayiv, Khmelnytsky, Vinnytsia, Chernigiv, Poltava, Zhytomyr) to highlight hot news of the vote day.

According to the Bigmir.net statistics, the number of hosts of the conference reached 15705, the number of hits was 97027.

Also, direct telephone lines were established with participation of correspondents of the 'Viewpoint' newspaper from polling stations abroad (Munich, New York) with information about progress and registered violations during voting.

During activity of the information center, a day-and-night of layer's assistance was provided to journalists and voters, as well as day-and-night mobile multi-channel telephone and telefax.

Activity of the information center made it possible to bring information to mass media, Ukrainian and international community about activity of civic monitoring organization in the field of ensuring free and transparent elections in Ukraine.